Thinking About Becoming a Client?
STEP 1: WATCH THESE INTRODUCTORY VIDEOS
Please watch these five short videos before your consultation (Each is less than 10 minutes long). These will help you understand the Principles and Priorities I use to evaluate our clients' needs and make testing and wellness program recommendations.  If you like what you see and hear move on to Step 2.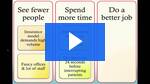 STEP 2: FILL OUT THE FORM BELOW AND REQUEST MY NEW CLIENT APPLICATION
My staff will contact you and arrange for you to fill out my application online. It's very easy.
Forms must be filled out completely and returned prior to your initial consultation.  Please give me a few days to review your information ahead of time so I can be properly prepared.  And include copies of any relevant lab tests and reports, anything related to your specific complaints and your general health (especially tests done in the last 6 months).
You can fax or email them to me at the contacts below.  Once we have all your paperwork, my staff will work with you to find a time that is convenient for your initial consultation and interview.
Send additional papers/reports to: Whitney at my office
Phone: 813.340.4588
Fax: 813-723-3581
STEP 3: GET YOUR SPOUSE OR SIGNIFICANT OTHER INVOLVED

This is very important! If you have a spouse, or significant other, we need them involved in the conversation, especially if they help you make important decisions, or will be affected by diet and lifestyle changes!  It is unfair to you and your spouse/significant other to try to recount an hour long consultation and to convey my thoughts and recommendations without losing some details.  If they can't be physically with you either in our consultation office, or at your home/office, we can connect with them to create a 3-way call.
I'll try to make this as convenient as possible but I can not stress how important it is to have them as part of the process.
Many of our clients go through a Program as a couple, but that is not a requirement.
And if you're not local don't worry. We have worked with clients from Hawaii to Russia, and from Denmark down to Puerto Rico.
---
IF YOU ARE NOT READY JUST YET BUT HAVE A FEW QUESTIONS
You can still use the contact form below. Make sure you type your main question into the large box at the bottom.
---
You can also check out our client FAQ's for answers to common questions.
I do travel and lecture frequently, so these contact forms are almost always the best way to get in touch with us. If you don't hear from us within 2 days after sending email (except weekends of course), please call the office.
YOUniq Wellness
Find Answers. Get Real Results. Rediscover Hope.
Dr. Steven Noseworthy DC DACNB DCCN PScD